Golf Practice Mat
The typical "hard" practice mats did not fill the need and industry professional expressed excitement over the new "sand-fill" tee line turf – only to be disappointed when the sand compressed and became almost as hard as concrete.  We even had a law suite in PA against one of the largest turf manufactures (at that time).

I became obsessed with developing what many outsiders would consider a "better mouse trap" but by actually interviewing and listening at the PGA show I truly believed that if I built it – they would come.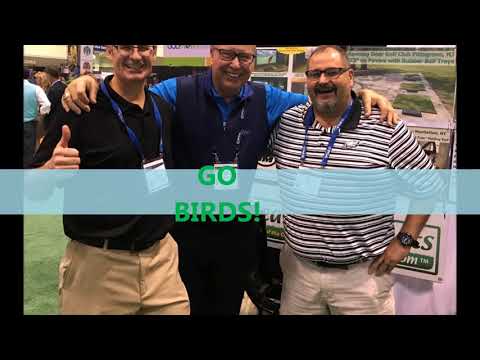 "Encourages Effective Ball Striking"

"Your J.R. Mat has been a pleasure to use. Because of the depth of the artificial turf, I can practice on my deck without any problem or feeling of hurting my left elbow. I can hit down on the ball, thus encouraging effective ball striking.It has been a joy to practice and get some good exercise without a trip to the driving range.Thank you for making such a great product that makes it fun to practice."

 Edward Zeidman
Granbury, TX
A golf practice mat that's "Easier On Golfers Wrists and Elbows"

"Jay, I want to thank you for making these mats available. I am a foot/ankle surgeon that had developed both a sore left wrist and golfer's elbow of my right arm that was potentially leading to serious impairment. Both of these injuries were a direct result of using a very poor quality and easily available mat for practicing during our snowy winter months. I easily hit 100 balls a day in my garage and won't follow my own advice and rest. Thanks to your mat I can continue to practice. Within one week my wrist was well and my elbow was almost non-existent and improving daily. Besides the obvious health benefits I find that your mat truly functions as you advertised. It performs like a fairway in feel and lets you know if you hit it fat, again without my wrist and arm taking the abuse. An added benefit is that it wears like iron. I wore out

my previous mats within weeks yet your mat shows no wear.

"Wears Like Iron – 

I wore out my previous mats within weeks

yet your mat shows No Wear"

Thanks again,"

Dr. Kurt Concilla
Foot & Ankle Surgeon
Cazenovia, NY
"Practice Better and More Productively"

"Hi Jay,

I've been using my new mat it's AMAZING.

Starting last year I decided that during the winter I was going to hit golf balls into a net down in my basement for a minimum of 15 minutes per day to stay prepared for the next season. I bought a mat for $59 thinking that this mat, which was fairly thick would serve me for several years and give me a fairly true feel of hitting the ball from the fairway. The first problem was with that much use the mat started coming apart and I had to replace it the first winter. The second problem was that I could not tell when I hit the ball fat because the mat unlike natural turf allowed the club to slide across it. Your mat allowed me to feel when I hit the ball fat because it slowed d

own my club much like natural turf. I can also hit down on the ball with your mat without worrying about damaging the mat. That mat is durable. I've used it for a few weeks now and cannot detect any wear. I'm practicing better and more productively.

Thanks,"

Andre Groves
Troy, OH
Get Better Results With A Better Practice Mat

Hi Jay, Here is a picture of my set-up. The pin is 90 yards from the mat. I dug out and put 2 inches of crusher run rock as a base for drainage. Think this will prolong life of base. I also keep it covered with a tarp. I am extremely pleased with your mat. There is nothing that comes close to the quality, durability, or feel of your product available at local golf shops. Results of having the opportunity to practice more are obvious. Thanks again for providing a product over the internet that truly lives up to its promises.

Keith Hart
Belton, SC
Experienced golfers know the importance of keeping their game honed. But like many people, they often have other obligations which may keep them off the range. This is where a quality golf practice mat comes in very handy.
Takes A Real Tee
Lets You Swing Down and Through the Ball
No Bounce
True Divot Action
Finally, a golf mat that lets you swing down and through the ball!
– Click here to read more about the best golf practice mat around (the best golf hitting mat) (the best driving range mat)
– Click here for Golf Mat sizes and pricing
Imagine being able to hit golf balls when ever you feel like it.  Wouldn't it be great to have a backyard golf practice mat so that you could hit a few balls whenever you felt like it, without having to get in the car and go to the range? Of course it would, and the fact is the easier it is for us to do something, the more often we will do it. Ever notice that?
J.R. Mats Inc is very happy to announce our offer of the new Country Club Elite® Frel Flee Golf Practice Mats. This is not your usual golf practice mat. In fact, it is nothing at all like the trashy products you have probably been using for years. And we mean trashy in the literal sense.
Did you know you that most retail golf practice mat that was made from discarded football field material or putting turf that is not engineered to withstand the repeated blows of a golf club? It is true. Many manufacturers are using that material to make their products and they expect you to use them and improve your game! That is simply not going to happen. You cannot use poorly made training aids and expect to improve anything associated with your game.
As a backyard golf practice mat, the Country Club Elite® Real Feel Golf Mats cannot be beat. Here is why:
Swing Down and Though for realistic impact practice
No rubber tees! Our system allows you to use real wooden tees.
True Divot action
Easier on Wrists and elbows
No driving to range. Just take it out and use it. Anytime, anywhere.
For less money than a new driver, you could purchase a top quality commercial-grade CC Elite system that will give you the perfect foundation for all of your practice sessions. This includes irons as well!
"The Feel and Playability, ie "divotability" or True Divot Action® as we have coined it of your  
Golf Mats Mimic The Real Thing"
Regarding the Twin Combo system I purchased a couple of months ago, attached are pics of the frame I assembled with three pieces of scrap wood and a few screws. I've been hitting into a net on my brick patio and this helps to prevent the Real Feel mat from sliding. I might add that this movement results primarily from the force being applied to the mat when I work on trying to hit through through the ball with shorter irons as one would on natural turf, which is to say the feel and playability, ie "divotability" ( true divot action -TM ), of your product mimic the real thing. I should add that my simple design would be improved by using longer pieces of wood on the front and back of the frame that extend the full width of both mats; ideally, a simple box with a divider in the middle could be assembled. Anyway, I'm very pleased with the product and have recommended it to several friends. Your gloves are also very well constructed and I'm looking forward to receiving my next order.
Regards,
Jay Cross – Weston, CT
Here is a video of Veronica,
from last Saturday at Butch Harmon's, after they teach her indoors on your CCE mat, with all the high speed cameras, they take her back outdoors on the real grass….
at the moment of this video, Butch was working with Nick Watney, about 100 feet away.  There was only the two of them (Veronica and Nick) at Butch's place.
Jay,
Do you realize, every great tour player Butch works with hits indoors off
your CCE mat at some time….. Tiger Woods! Yes,
I have pictures of Veronica and Tiger hitting off the same CCE mat !
Doug Joels, Nevada