RotaNet Superior
As soon as I laid eyes on this new Golf Net Innovation – I knew it was winner!
We've tested (unsuccessfully) every pop-up net we could get our hands on and none of them held up to rigorous use over time – many broke within the first 1,000 hits.
The RotaNet Solves the Backyard Golf Net Problem
The Rotanet is both compact and portable when it's retracted — Cage Nets are too big and can be an eye-sore.
The RotaNet's revolutionary design keeps it protected from UV Rays — Cage nets are left out exposed to UV rays and weather so the netting will "dr-rot" over time. It comes with a Protective cover to use when not in use and can also be easily stored in your garage or shed.
Large Hitting Area — The Mouth of the Rotanet is 10′ Wide x 8′ Deep and the vaulted ceiling provides protection against high shots.
The revolutionary Rotanet is a fully retractable and portable golf practice net. Unobtrusive and convenient, it is used and recommended by golf pros and coaches for golf swing practice. Our unique, patented design can be stored indoors or left outdoors in the weather resistant cover. All this, and it's ready for play in just two minutes!
Set-up or stow away in just two minutes
Double-reinforced UV-stabilized Impact Net with target marks
Weather-resistant features including rust-proof aluminum supports, socket caps and cover
Ready for play in just 2 minutes
The Rotanet enables practice at any time thanks to its unique retractable design which allows the net to be set up in just two minutes… and then stowed away neatly in the same amount of time. The Rotanet comes complete with three permanent hammer-in ground sockets that support the opened net during practice. For those wanting to use the Rotanet indoors or as a temporary installation outdoors on grass or hard surfaces, there is an optional free-standing frame.
The compact, unobtrusive design of the fully-retracted Rotanet means that it can be left in place after practice, protected by its waterproof cover. Or store in your shed or garage by simply lifting the complete assembly (it weighs just 32lbs !) from its ground socket and store away safely until next time.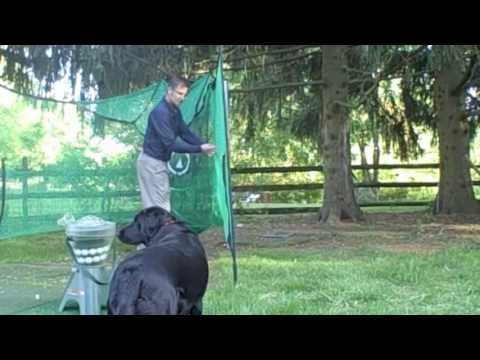 Key design points of the Rotanet

(hover over a thumbnail to enlarge the image)

Roof Section Roof Section — Raised and lowered utilizing impact-resistant telescopic nylon handles.

Impact Net Impact Net — Durable reinforced impact/target netting used for the main ball impact area.

Main Support Tube Main Support Tube — Made of rust-proof aluminium, the main support tube has an internal recoil spring that allows the net to be opened and retracted easily.

Main Net Main Net — Constructed from 3/4″ (20mm) square, high-tensile polypropylene cord.

Ground Support Sockets Ground Support Sockets — Inserted fully into the ground, the sockets allow mowers to pass safely above. Weather caps prevent empty sockets filling with water.

Optional Surface Frame Optional Surface Frame (option available during checkout) — The standard Rotanet Superior comes with 3 ground sockets for outdoor (in-ground) use. The optional surface frame allows you to use your Rotanet indoors during the winter months.
Price: $550.00
  Sale: $449.00
"I can thoroughly recommend the Huxley Rotanet to golfers of all standards who want to improve their game."
"I use the Huxley Rotanet for practice at home. It's quick and simple to set up, takes up very little space and allows me to practice my shots whenever I want."
Alison Nicholas
Former US Womens' Open Champion 1997
Former European Team Captain (2009 & 2011 Solheim Cups)