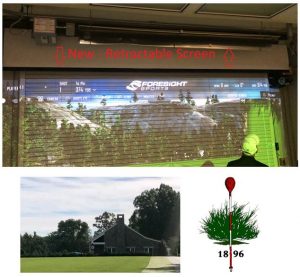 GREAT FOR ACADEMY BAY DOORS, GARAGE and HOME THEATERS!
Standard widths 12' & 16' (custom widths available – please submit form below for a quote)
Bay to simulation in seconds
Out-of-sight design
Seamless Clear|HD image
Quiet impact / extremely durable
Space saving
Screen protecting
Push-button action
Easy to install (or we can do it for you)
Used by Merion Golf Club, Applebrook Golf Club, Brookside Country Club, Linfield National Golf Club, Commonwealth National Golf Club and Kings Creek Country Club to name a few!
The Country Club Elite® Retractable Screen allows us to give lessons, allow practice sessions indoors, and provide simulated golf experience. The retractable screen gives a much cleaner look and image than other options that we saw in the marketplace. The members absolutely love it.
Dave McNabb
PGA Head Golf Professional Applebrook Golf Club
Custom Simulator Screen Sizes available!
Please fill out the form below with as much information on your golf space as you can. Static Screens and full golf simulator enclosures are also available. Please let us know how we may be able to help you.