Our Story
Improve your game by practicing on your New Country Club Elite® Real Feel Golf Mat® All year long – at home, in your own backyard, garage, shed, or basement.
Dear Fellow Golfer,
You've probably seen a lot of the garbage (literally) that the big retail golf stores are trying to pass off as golf mats. Most of these companies actually use the scrap from football fields or discontinued artificial turf products – chop them down into small mats – put them in glossy 4-color boxes – and try to pass them off as golf mats. Most of these products were not designed to take the repetitive impact of a golf club and tear up withing a few weeks.
I started manufacturing high end commercial driving range mats back in 2000 utilizing patented fiber blends and in-house tufting technology combining heavy duty mono-filament (fishing line) fibers (at that time US Patent # US6106921 A).
My first product the Flip-It™ Mats where extremely durable but hard as HE!! to hit off of. Many country clubs and higher end golf courses refused to use mats at all because the industry offering was so poor.
We have displayed annually at the PGA Merchandise Show and I was proud to introduce The Country Club Elite® Real Feel Golf Mats® at the 2006 world wide PGA Merchandise Show in Orlando, FL where The Country Club Elite® Mat was considered for the number one product featured in the New Product Pavilion.  The Country Club Elite® Mat was also overwhelmingly well received that year at the National Golf Industry Show in Atlanta Georgia.
We have displayed annually at the PGA Merchandise Show since 2000.  In 2005 after listening to PGA professionals demand for a better golf mat – something more realistic and easier on the body to hit off of, I developed the Country Club Elite® Golf Mat and introduced it at the PGA show in January 2006. It was "the first mat that could take a real tee" and drew a lot of attention.
The buzz about the product was overwhelming and word spread like the old commercial "I'll tell 2 friends" … "I'll tell 2 friends. My sincere thanks to Top Teaching Professional Mike Bender and PGA President Jack Connelly who helped get the ball rolling over 9-years ago.
The internet has also been extremely helpful allowing me to bring the industries best golf mats directly to you, so that you can buy the best golf practice mats direct from the manufacturer for your specific needs.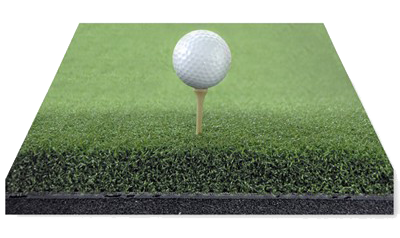 No Bounce®
"It really does eliminate the problems common with most mats – there is no bounce and the feel really is REAL…"
Jack Connelly
PGA of America Pres. 2001-03
Arnold Palmer Lifetime Svc Awd
PGA Philly Section Hall of Fame
Takes A Real Tee®
"Being able to tee a ball up any where on the mat is a huge advantage over other mats …" 
Mike Bender
Top 5 Teacher Golf Digest
2009 Nat'l Teacher of The Year
Top 25 Golf Academy
Swing Down And Through®
"I wanted THE BEST  MAT for my new academy. It reacts like real turf even on miss hits – you get realistic feedback even on a fat shot…"
Told Kolb
MN PGA Teacher of the Year 08
PGA Dekota Chapter Teacher of the year 2010 & 2015
True Divot Action®
"True Ball/Turf Contact – you don't get false results like you do using other golf mats — it's exactly the same reward and penalty for accurate ball/turf contact."
Brian Manzella
Golf Digest – The 50 Best Teachers In America
Golf Magazine Top 100 Teacher
TrackMan University Master Teaching Professional
"I had Given Up Hope… Until I Saw The Country Club Elite® Golf Mat"
"Dear Mr. McGrath,
It was my pleasure to meet you at this years PGA show. Thank you so much for your help with our custom MEGSA Mats and also introducing me to your new Country Club Elite Mats. As you know we run multiple golf academies and have been looking for an acceptable synthetic hitting turf option for years. I had given up hope until seeing your product. It provides a true feel with true results especially on a "fat-shot". We plan on installing your product at two of our academies this year with more to come. Best wishes for your continued success.
Sincerely,"
Mike Bender
Mike Bender Golf Academy – Lake Mary, FL
#4 in Golf Digests America's 50 Greatest Teachers

PGA Teacher Of The Year

Top 25 Golf School

Coach to the pros: Zach Johnson, Seon Hwa, Johnathan Byrd, Robert Damron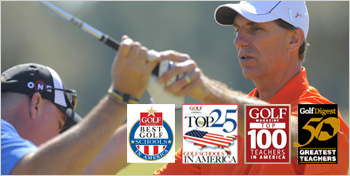 "The Golf Mat Has Surpassed All My Expectations"
"A little over a year ago I invested in one of your Golf Mats. The product has surpassed all my expectations and then some. Being a retired person affords me the opportunity of using the mat almost daily hitting several hundred balls at each session. The mat shows zero wear even though I have not rotated it. My sincere thanks and congratulations for giving the golfing public such a marvelous training aid. Continued success with your mats."
Nick Cercone
Waltham, MS
Although Being The First Golf Mat That Takes A Real Tee® was what initially attracted attention (the sizzle) — The 'Real Feel' when hitting irons and wedges has proven to be the biggest benefit (the steak).
If you ever hit irons off of a Driving Range Mat you know that a "fat shot" will look better off of a typical driving range mat than it ever will on the fairway. This is because the club will bounce and slide across the top of most mats giving false results – especially to fat shots. This is commonly referred to as the "drop-kick" effect problem that most mats have.
Most golf mats use a rubber tee of a predetermined height forcing you to adjust to it. The New Country Club Elite® Real Feel Long Dense Fiber System-TM Takes a Real Tee® allowing you to choose and vary your tee height for various clubs. Rubber tees can obstruct your club-head at the point of impact giving you a different feel than you get hitting off of a real tee.
Swing Down and Through® —
Without T

he Bounce Other Mats Have.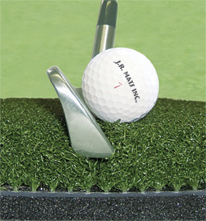 Country Club Elite® Real Feel Golf Mats®' Long-Dense-Fiber-System solves the "fat shot problem" most mats have. The Long Dense Fiber System approximates the feel of a lush fairway. If you hit down on the ball properly the club passes freely allowing you to Swing Down and Through® the top fibers of the mat with True Divot Action®.
However, you will feel the difference on a "fat shot" because if you go to deep the Long-Dense-Fiber-System will slow the club head down as if you've taken a deep divot or "chunked" a shot.
Because the fibers are so long and dense they absorb and dissipate the blow for immediate and realistic feedback at the point of impact AND ELLIMINATES THE PROBLEMATIC "BOUNCE" OF MOST MATS.
The Country Club Elite's® Long Dense Fiber System is specifically designed to absorb the blow of a golf-shot as true fairway would providing the most realistic feel that a synthetic turf golf mat can.
With a typical golf mat the club would "bounce" on the mat for an unnatural feel and false results. Country Club Elite® Real Feel Golf Mat® is made from unique "spring-set" grass like fibers that move, absorb, and dissipate the downward blow of a golf-shot simulating the feel of taking a divot.
Since the Fiber system is so long it actually lets you Swing down and through® the ball so you can practice proper "Ball-Turf" impact which dictates the quality of a golf shot – Better practice means better results.
Country Club Elite® Real Feel Golf Mats® give you a true feel so that you know if you have struck the ball fat, thin, or just right.
This is a brand new and revolutionary design for a golf mat. The unique Long Dense Fiber System incorporates spring-set heavy denier mono-filament grass fibers packed in so tightly that it can even hold a real wooden tee. The Long Dense Fiber is bonded to 5/8″ thick polyethylene foam using a specially engineered urethane stabilizing layer. The foam is designed to for added dimensional stability (As opposed to just using the turf itself). The secret of Country Club Elite® Golf Mat is the combination of these three components resulting in the best golf mat available anywhere.When The Country Club Elite® Real Feel Golf Mat® is struck during a golf-shot the fibers will absorb and dissipate the blow as if taking a divot. However, if you hit a "fat" shot the fibers will duplicate the resistance you would feel "chunking" some real sod.
"Encourages Effective Ball Striking"

"Your J.R. Mat has been a pleasure to use. Because of the depth of the artificial turf, I can practice on my deck without any problem or feeling of hurting my left elbow. I can hit down on the ball, thus encouraging effective ball striking.
It has been a joy to practice and get some good exercise without a trip to the driving range.
Thank you for making such a great product that makes it fun to practice."
Edward Zeidman
Granbury, TX
"The Golf Mat is Just As Advertised – Works Great"
"Hi Jay,
We received the mat and it is just as advertised. Works great. Thanks! We would like to order a second one now that we see that the product is as high quality as it is. Please process another order for another 5×5 mat.
Thank you!"
Ron Lone
Mazama, WA
"Practice Better and More Productively"
"Hi Jay,
I've been using my new mat it's AMAZING. (the Other guys fell apart)
Starting last year I decided that during the winter I was going to hit golf balls into a net down in my basement for a minimum of 15 minutes per day to stay prepared for the next season. I bought a mat for $59 thinking that this mat, which was fairly thick would serve me for several years and give me a fairly true feel of hitting the ball from the fairway. The first problem was with that much use the mat started coming apart and I had to replace it the first winter. The second problem was that I could not tell when I hit the ball fat because the mat unlike natural turf allowed the club to slide across it. Your mat allowed me to feel when I hit the ball fat because it slowed down my club much like natural turf. I can also hit down on the ball with your mat without worrying about damaging the mat. That mat is durable. I've used it for a few weeks now and cannot detect any wear. I'm practicing better and more productively.
Thanks,"
Andre Groves
Troy, OH

Improve your golf swing in your own back yard with your own Country Club Elite® Golf Mat.

Finally a golf practice mat that lets you "Hit-Down on the golf ball" for a true feel and realistic practice.

Help reduce your risk of golf range practice mat injury with Country Club Elite® Real Feel's forgiving Long Fiber System.

The Country Club Elite® Mats are built to withstand the punishment of repeated use even by wedges thanks to it's 100% spring crimped heavy denier nylon fibers with added UV stabilizers and better abrasion resistance.

Lower your score and become a more consistent player by practicing more in your own back yard, garage, shed, or basement.

For less than a brand new driver (do you really need one?) you could have a commercial grade revolutionary Country Club Elite® Golf Mat that will provide you a training tool to help improve your swing.
Country Club Elite® Real Feel Mats are typically sold commercially as 5′ x 5′ and larger. I recognize the fact that this size may be larger than necessary for home use, so I'm making some special "consumer sizes" available to you on this web site.
New Consumer Sizes (same great product): Hitting Strips from 10″ x 30″ Mat Sizes 3'x4′, 3'x5′, 4'x4′, 4'x5′, 5'x5′, 5'x10′
For as little as $47.00 you can own a Country Club Elite® Real Feel Golf Mat™ and start improving your golf game. You will recoup your investment with the money saved on range balls every time practice with your new Country Club Elite® Real Feel Golf Mat™ (Not to mention the money you may win from your friends on the course). More importantly you will practice more since you will be able to hit balls in your own back yard (without taking divots), garage, shed, or basement. If your as busy as I am, I'm sure you don't practice your golf shots as often as you would like – now you can hit 30 balls in less than 10 minutes at lunch, after work, or on the weekend whenever you can squeeze it in. I know I hit a few hundred balls a week more than I ever have and it is starting to show on the course – Since I started practicing in my backyard i'm scoring better, having more fun, and hitting a lot more "golf-shots".
100% No Hassle Satisfaction Guarantee!

If you don't agree that your new Country Club Elite® Golf Mat is the best golf mat that you have ever hit a ball off of and you are not 100% completely satisfied, simply send it back for a courteous, no hassle, prompt refund. No other golf mat manufacturer that I know offers this type of guarantee. You have absolutely nothing to lose.