Doug wrote us this golf mat review after using our Country Club Elite® to practice his chipping and pitching game! 
Jay,
Enclosed are photos of me practicing chipping/pitching with my Real Feel Golf Mat®
"Getting up and down better than ever. Great product!"
The first photo is with me chipping from my driveway to a target in my front lawn.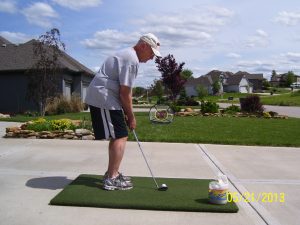 The second is me hitting to a far target from my neighbor's sidewalk across the street (my neighbor let's me do this!) into my front lawn! I can actually move up the sidewalk to the left and angle into my yard up to 45 yards away!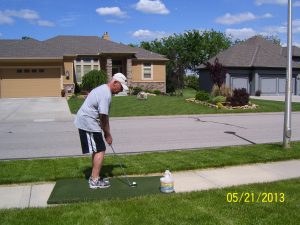 The third photo is me hitting to a medium length target, again across the street on my neighbor's sidewalk.
"I really like to practice on my Country Club Elite Mat — I can duplicate the results on the golf course."
I am pretty busy, but by chipping/pitching 60 balls a day (minimum! Sometimes 90 or 120 balls!) I can score pretty well on "ups and downs" when I make it to the course.
Doug Schakel
Colorado Mesa University Basketball Coach and Athletic Director-retired but still coaching, now at Johnson Country Community College in Overland Park, KS (age 71)