Bob  wrote us this golf mat review after purchasing a Country Club Elite® practice mat for his backyard. We love what he did did with it.
"I love your mat!"
Hi Jay!
I live on a pond, so I bought some floating balls, floating rope, and your golf mat.
I love your mat.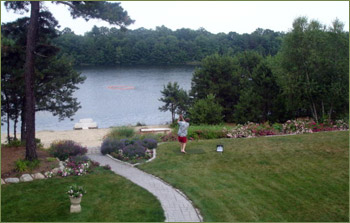 It actually lets me know when I hit a fat shot. I can put a tee right in it, instead of rubber tees, too!
My friends are very impressed. I knew if I built it, they would come.
Thanks,
Bob Harrison
Thanks for the review Bob, it is much appreciated.
I have rekindled many old friendships and began some new ones since I built my backyard golf course – Jay