Biran Manzella and Michael Jacobs will be special guests in J.R. mats Inc. PGA Booth# 1865 on Wed. from 10-12.
To Request an invitation please contact:
Michael Jacobs: xgolfschool@gmail.com
Brian Manzella: brianManzella.com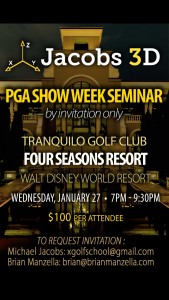 Utilizing the groundbreaking golf swing research of Dr. Steven Nesbit, who began his study for the USGA over 20 years ago, a ultra high end software
was created that is already changing the way the game is being taught worldwide. That software is Jacobs 3D®, a proprietary swing analysis program written for the use of the Jacobs 3D   Initiative, a program headed up by former PGA Met Section teacher of the year, Michael Jacobs and Golf Digest Top 50 and Golf Magazine Top 100 instructor Brian Manzella.
Jacobs and Manzella are presenting a Jacobs 3D® seminar at the Four Seasons Resort – Tranquilo Golf Club in Orlando, Florida on Wednesday January 27th, 2016 from 7:00 pm until 9:30pm, during the week of the PGA Merchandise Show.
The seminar is an invitation only event and the cost is $100 per attendee.
Seminar Agenda
7:00pm Welcome and introduction to the Initiative by Brian Manzella
7:20pm Michael Jacobs will discuss the Jacobs 3D® Swing Analysis System and cover
The Hub Path, Quivers, Linear and Angular Contributions to the Swing, Notes from Dr. Nesbit, and PGA Tour Swing Samples
8:20pm Brian Manzella will discuss using the findings from Jacobs 3D® in real world teaching and the Post Modern golf swing.
9:20pm Michael Jacobs will speak about the the future of Jacobs 3D®
9:30pm Adjourn
To request an invitation, please email Michael Jacobs — xgolfschool@gmail.com
To hear more about Jacobs 3D please stop by the J.R. Mats Booth # 1865 on opening day of the PGA Merchandise Show 2016 between 10-12.